Blog post tomorrow!
posted Jan.07.10 at 02:01 am

Does this count as a blog post? BLOG POST COMING TOMORROW!
Comments
2018 Schedule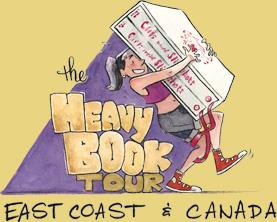 6/19: Albany
LASER TAG WOO!!
with Jess Fink and Eric Colossal!
Zero Gravity Laser at 6 PM!
6/20: Worcester
That's Entertainment, 5-8
6/23: Portland, ME
Casablanca Comics, 5-7
6/27: Halifax,NS
Strange Adventures, 5-8
********************************************************
6/27: The Complete GWS available in stores!!
6/28: BOO! It's Sex debuts on Webtoon!!
********************************************************
6/29: Essex Junction, VT
Words & Pictures open house, 6-9
6/30: Montreal
with Boum!
Drawn & Quarterly, 7-9
7/3: Rochester *might* happen; keep your eyes peeled!
7/5: Toronto
The Beguiling, 5-8
7/7: Pittsburgh
New Dimension Comics, Pittsburgh Mills, 5-8
Tween/Teen Comics Class
at the Shepherdstown Library - free!
July 19 11:00 am - noon
Shepherdstown, WV
a few days between August 2-5
Indianapolis, IN
September 15 & 16
Bethesda, MD

Danielle likes to read...
Questionable Content
Something Positive
Dumbing of Age
Diesel Sweeties
Saturday Morning Breakfast Cereal

And more!
Johnny Wander
Octopus Pie
That Deaf Guy
LunarBaboon
Sufficiently Remarkable
Blaster Nation
Ramen Empire
Molebashed
Murdercake
Too Sexy For Work!
Chester 5000 (too sexy for work!)
Oh Joy Sex Toy (also too sexy!)
The Rock Cocks (careful: sexy!)
Finished, but worth re-reading!
The Bad Chemicals
Cul de Sac
All New Issues
...and check out 17-year-old Chiara's comics below!
Jump Rope
Outlander Man

I also love the podcast My Brother My Brother And Me!
Speaking of podcasts, you can listen to the podcast R. Stevens and I put on every weekwwwwhenever, called Coffee and Cider! We just chat for half an hour about... anything. Mostly being work-obsessed idiots and human beings who like beverages and have cats.